Anthracite Grey Aluminium Bifold Doors
Explore our excellent range of anthracite grey aluminium folding doors for a high-quality alternative to traditional French or patio doors.
High-security, multi-point locking systems, tailored measurements, and a great finish are all benefits of installing our aluminium bifold doors.
Aluminium Bifold Doors in Anthracite Grey
Our external bifold doors with an anthracite grey finish can be easily installed based on your measurements.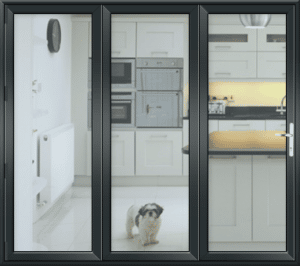 Anthracite is a dark grey that offers a rich, deep colour that is warmer than traditional black or white options. It also helps to provide a softer contrast for a pleasing aesthetic.
Anthracite is between black and slate grey and is an excellent option for modern and contemporary properties.
Our Range of Aluminium Bifold Doors in Anthracite Grey
Our huge range of grey aluminium bifolding doors is built to a high specification from thermally-broken aluminium. They are weather-tested, compliant with building regulations, and available with triple or double-glazed glass.
Installation is straightforward for professionals, with easily followed fitting instructions supplied.
What Kind of Homes are These Doors Good For?
These doors complement light-coloured properties well. While they are typically considered a more contemporary option, they can also look great on more traditional properties.
Why are Aluminium Bifold Doors Anthracite Grey Popular With Homeowners?
Anthracite aluminium bifold doors are popular with homeowners as it offers an excellent contemporary style that won't ruin the aesthetic of traditional properties.
Classic colours like black, grey, and white aren't seen as a risk for homeowners as they are highly unlikely to go out of fashion. An anthracite option is excellent for people who don't want anything as dark or contrasting as black bifold doors but feel grey is a bit light.
What Styles of Aluminium Bifold Doors in Anthracite Grey are Available?
The colours our bifold doors are available in include grey, white, black, and anthracite. You will be able to measure sizes and tailor doors to your needs.
Enjoy matching colour handles, integrated blinds, astragal bars, and a number of glazing options depending on your preferences.
UK Aluminium Bifold Doors makes it easy for you to buy black, anthracite, and white aluminium bifold doors.
Anthracite Grey & Interior Design: What Does It Say About You?
Anthracite grey is a popular option in interior design because of its ability to create a calming effect.
The neutral colour helps to complement others and create a good contrast. Anthracite also complements gold, silver, brass, and bronze.
Do You Have Any Questions?
We'll Be Happy To Assist!