Black Aluminium Bifold Doors
Black Aluminium Bifold Doors
Aluminium folding doors can be a great way to improve the security, energy efficiency, and aesthetics of your property.
Choosing the colour of your new external bifold doors can be challenging, and we have many colour options, including black, white, grey, dark grey, and anthracite grey.
Our Range
The best thing about our huge range of black aluminium bi-folding doors is that you can design them to your specifications.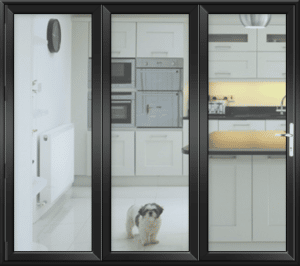 Choose from the number of panels, enter your unique measurements, select a colour, and make other design choices to ensure your aluminium bifold doors are perfect for your home.
Benefit from high-performance double glazing to complement the thermally broken aluminium of these doors.
The strong aluminium frame and multi-point locking mechanism provide maximum security.
What Kind of Homes are Aluminium Bifold Doors in Black Good For?
Black aluminium bi-folding doors can be perfect for modern and traditional homes.
You can create a dynamic contrast with light-coloured properties or complement darker homes, whereas a white aluminium bifold door would bring out the colours around it when fitted.
Why are Aluminium Bifold in Black Doors Popular With Homeowners?
Black is one of the most popular colour choices for aluminium doors, and choosing a black aluminium frame for your bifold door can add cohesion to your property's aesthetic.
Black, white, and dark grey aluminium bifold doors are popular choices as they will suit most properties and have an extremely low chance of going out of style.
What Styles of Aluminium Bifold Doors are Available? 
If you are considering bifold doors, black aluminium options are the perfect solution. Our aluminium folding sliding doors can be designed to suit your needs.
They offer more of a contrast than an anthracite grey bifold door or a grey aluminium bifold door.
As well as being able to choose the number of panels and sizes, integral blinds and astragal bars can also be added. The glass you choose will also make a difference to your aluminium folding patio doors.
Choose from patterned glass for a unique look, solar control glass for protection from UV rays, or choose from triple and double-glazed glass for greater thermal efficiency and noise reduction.
Ultra-slim sightlines also provide greater views and more natural light within the property.
Black & Interior Design: What Does It Say About You?
As well as complimenting your outdoor space, black aluminium bifold patio doors can also benefit interior design.
Black is often used to make rooms feel larger, create a dramatic contrast, or add sophistication.
Our stunning aluminium bifold doors are not only functional, but they can also be a great style choice for any room.
Do You Have Any Questions?
We'll Be Happy To Assist!