Grey aluminium Bifold Doors
Grey Aluminium Bifold Doors
When it comes to aluminium folding doors, our huge range provides a range of benefits that are perfect for any home.
Our aluminium doors are designed and built to your unique technical specifications and are available in various colours.
Enjoy high-security multi-point locking mechanisms, great thermal efficiency, and ultra-slim sightlines that give better views and allow more natural light into your home.
Our Range of Grey Aluminium Bifold Doors 
Our doors are extremely hard-wearing and durable. Our thermally broken aluminium offers excellent thermal efficiency. Your glazing choices include triple and double-glazed glass or efficient low u-value glazing to help keep the noise out and heat in.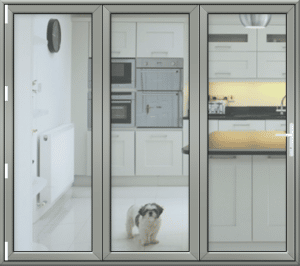 Our bifold doors' colours offer an excellent choice. Choose from black, white, and anthracite grey aluminium bifold doors, among others.
What Kind of Homes are These Doors Good For?
Choosing the right colour for your external bifold doors can be challenging. A grey bifold door can be a great choice because of its versatility; they're great for both traditional and contemporary properties.
You can compliment an existing home colour or look for a more subtle contrast than white, black, and dark grey bifold doors.
Why are These Doors Popular With Homeowners?
Choosing bifold doors that look great and won't run the risk of looking dated is a great investment for homeowners.
This secure option is available in standard sizes or can be tailored for individual needs, making it ideal for all home improvement projects.
What Styles of Doors are Available in Grey? 
A range of styles and colours can be enjoyed as you design the perfect doors for your home.
Measure sizes for your home, choose the glass types, additional extras, and whether you want matching colour handles.
Dual colour options are also available, so getting a grey and black aluminium bifold door can be done for you.
They can be easily installed thanks to the easily followed fitting instructions supplied.
Choose the number of panels you want for your home in a grey or anthracite grey finish and enjoy a frame that looks great, keeps your home secure, and can save you money on heating bills.
Grey & Interior Design: What Does It Say About You?
The use of grey in interior design is popular because it is a neutral tone that can be matched with any hue, whilst a white aluminium bifold door is brighter and used to bring out the light in other colours.
It can soften a room and create a cosy feel. Whether you have a contemporary, minimalist theme in your house or a more homely, traditional style, grey can be a great option.
Do You Have Any Questions?
We'll Be Happy To Assist!