Dark Grey Aluminium Bifold Doors
Dark Grey Aluminium Bifold Doors
Our extensive range of high-quality bifold doors provides our customers with aesthetically pleasing and secure external door options in a variety of colours.
Our striking dark grey bifold doors are a particularly popular option for people looking for a great way to let more light into their homes and provide easy access to their outdoor space.
Aluminium Bifold Doors
Aluminium bifold doors provide a sleek and streamlined way to secure your home. Our thermally-broken aluminium is a durable and hardwearing material that will guarantee great performance for years.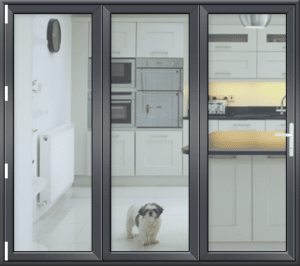 As well as being strong and providing security, multi-point locking mechanisms offer additional peace of mind.
This low-maintenance option also provides slim sightlines providing great views into your garden and more natural light into your home.
Our Range of Doors in Dark Grey
The colours of our bifold doors include black, white, anthracite grey, and dark grey. Our grey aluminium bifold doors can be tailored to suit your needs.
Choose from 1 to 8 panels, integrated blinds, astragal bars, and your own unique measurements to get the perfect fit and style for your home.
What Kind of Homes are Dark Grey Aluminium Bifolding Doors Good For?
While dark grey doors offer a sophisticated and smart finish that is perfect for contemporary homes, it is equally at home on more traditional properties due to their timeless quality, much like white aluminium bifold doors.
Dark grey aluminium folding doors can help to complement or contrast the colours around them, making them an efficient, versatile, easily installed option.
Why are These Doors in Dark Grey Popular With Homeowners?
If you choose insulated aluminium doors for your home, explore our range of anthracite grey bifolds and dark grey bifolds with matching colour door handles to create the perfect style for your home.
A gorgeous grey aluminium frame can offer a modern and stylish touch to your home that won't go out of style.
What Styles of Doors are Available in Dark Grey?
The aluminium bifold doors are built to the highest specifications. You will have the opportunity to design every aspect from the size to the number of glass panels, whether they open inwards or outwards, the internal and external colours, and the type of glass you want to be fitted. Low u-value glazing is a popular choice.
Dark Grey & Interior Design: What Does It Say About You?
The use of dark grey offers versatility to homeowners. It can complement or contrast fixtures or fittings, like black bifolds can, and offers a rich, warm effect at home in contemporary and traditional properties.
Do You Have Any Questions?
We'll Be Happy To Assist!