3 Panel Aluminium Bifold Doors
3-Panel Aluminium Bifold Doors
Getting the right doors for your home is essential for security, energy efficiency, and aesthetics.
All of our aluminium bifold doors are designed using engineering-grade hardware to guarantee smooth operation.
You will benefit from a super-slim sightline that maximises your views and natural light.
You will be able to tailor your aluminium bifold door to your specifications and choose from a range of colours to ensure you get the perfect finish.
Our Range of 3 Panel Aluminium Bifold Doors
Our range at UK Aluminium Bifold Doors can be designed to complement both your indoor and outdoor space with a range of colours and additional extras. We also have aluminium windows if you want to go all out and give your home a complete makeover.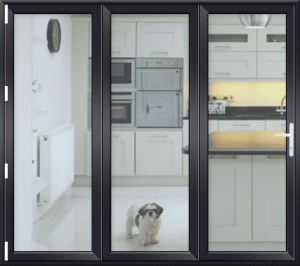 Choose from a range of glass options, including double and triple glazing, patterned glass, lightweight, low u-value energy-efficient options, and solar control glass to minimise UV damage.
Integral blinds can help you shade rooms. Electric, magnetic, and solar-powered options in a variety of colours are available.
Astragal bars can also help to personalise your bi-folding door choice and can be installed vertically and horizontally, and can even be installed in larger bifold doors, like 5-panel bifold doors.
Uses of 3 Panel Aluminium Bifold Doors
3 and 2-panel aluminium bifold doors can be used in commercial or domestic properties.
Our bifold doors can be designed to open inwards or outwards, are easily installed, and are fully compliant with building regulations.
The slimline aluminium bifold door frame allows greater outdoor views and improves the quality of light inside.
You will enjoy the benefits that windows provide, with the added convenience of accessibility, with bigger doors, like 4-panel aluminium bi-folds, providing an even higher level of accessability.
Why are 3-Panel Aluminium Bifold Doors Popular With Homeowners?
3-panel aluminium bifold door frames are popular among homeowners because of their durability, style, and performance.
Aluminium door frames are long-lasting investments for homeowners that plan to stay in the same property or want prospective buyers to have faith that they will last.
Combined with efficient glazing, a 3-panel aluminium bifold door provides great thermal efficiency for your home. UV-protected glass and integral blinds help protect the home from sun damage.
The slimline frame design and extensive selection of colours will also look great in contemporary or traditional homes that want to enjoy more light and easy access to outdoor areas.
What Colours of 3 Panel Aluminium Bifold Doors are on Offer?
Choose your door colour for any bifold door type to suit your style, and you will be able to match the door handle colour too. Available colours include;
Black

White

Grey

Anthracite Grey
Alternatively, you can choose from the RAL colour-matching system for a unique style.
Do You Have Any Questions?
We'll Be Happy To Assist!