White Aluminium Bifold Doors
White Aluminium Bifold Doors
We offer a range of high-quality, white bifold doors that are designed and constructed to the highest standard.
Enjoy great performance, security, and aesthetics when you explore our made-to-measure options.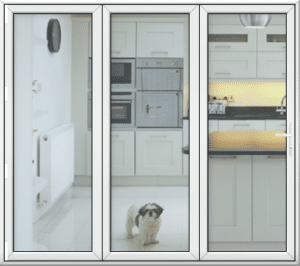 Security-conscious customers will benefit from a multi-point locking system.
Choose from one to eight panels for your aluminium door, measuring up to 3,000 mm in height without compromising on strength or security.
Design and order door online – click here >
Our Range of White Aluminium Bifold Doors 
Our secure range of white aluminium bifolding doors can be tailored to suit your needs, from the number of panels needed to optional extras, including integrated blinds and astragal bars.
Enjoy slimline framing to let more light into your home and to help you see more of your outdoor living space.
Our bifold doors come in many colours to compliment your home. White, grey and black aluminium bifold doors are popular options for many looking to improve their home.
What Kind of Homes are These Doors Good For?
Properties with rooms opening out onto gardens can benefit from aluminium folding doors as they allow you to create a seamless transition from your indoor space to the outdoors and improve airflow through the house.
Because aluminium frames are typically slimmer than alternatives, large spaces appear more open and look great.
White aluminium folding door frames are an excellent option for contemporary properties that want a clean look.
Why are These Doors Popular With Homeowners?
As well as being a great option for contemporary properties, our doors can also be used in traditional properties.
They perfectly complement the light-coloured decor and white-painted homes and stand out against dark properties.
Installing white door frames can also be beneficial for resale as they don't go out of fashion and look outdated, unlike anthracite grey bi-folds, which are much more suited to modern homes.
Design and order door online – click here >
What Styles of White Aluminium Bifold Doors are Available?
Our aluminium doors have slim, 120 mm frames designed to increase the double or triple-laminated safety glazing on view.
Patterned glass is also an option that lets you put your own personality into the style of your external bifold doors.
Aluminium concertina patio doors can be a welcome change from traditional sliding doors, becoming a secure and stylish addition to your home.
White & Interior Design: What Does It Say About You?
Choosing white for your home can help to create a pure and serene atmosphere.
White interiors create sophisticated living spaces and make properties more spacious and open.
White is also used to contrast with darker colours and is the ideal background to help other colours stand out, such as grey and dark grey.
Do You Have Any Questions?
We'll Be Happy To Assist!